Description
With this kitchen cutting kit, you can save 70% time , say bye to watery eyes when slicing onions; And helps you prepare food more elegantly.
Wouldn't it be wonderful to have a reliable kitchen tool on hand that could be used for almost any task you can think of? Need to drain something? Need to cut something? Peeling? Separating egg whites? Grate or slice anything? The Mandoline Slicer Cutter Chopper and Grater can do all that and more!

FEATURES:
Convenient and labor-saving
stainless steel and ABS environmental protection resin material 
MultifunctionI 
The changeable blades can cut through all kind of vegetable and fruits, can grate cheese and even create paste-like vegetables or mash potatoes. With this 8 IN 1 Multi-Function Easy Food Chopper,you can save 70% on prep time and you can say goodbye to watery eyes when slicing onions .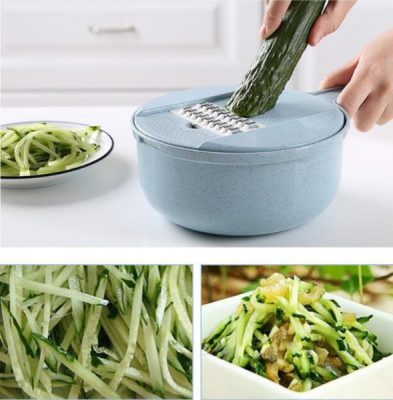 PACKAGE DISPLAY:

WHY SHOP WITH US?
Because we pay particular attention to the choice of our products.
They must be innovative and very good quality.
Our items are tested and approved by our service.
Safe payment methods
As a CorCaroliShop brand, We are passionate and we make every effort to make you happy!
Free Shipping on all orders