Description
Just a portable monitor? No way. Desklab is an entire suite of office and entertainment features packed into the lightest portable touchscreen monitor ever. It's your 4K screen, it's your dongles, it's your charger, it's your speakers, and it's fully customizable to be whatever else you need. Get rid of all the clutter in your briefcase or backpack.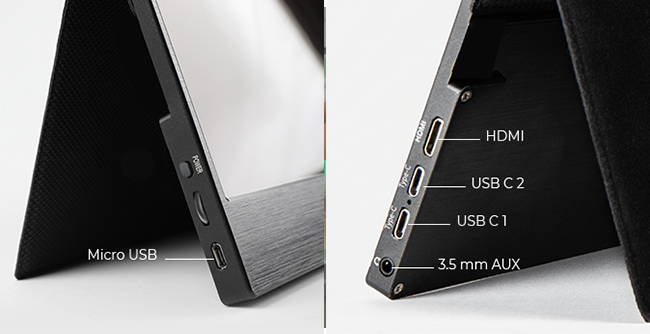 True Led Backlight  Desklab is powered by a True LED backlight that guarantees the deepest blacks and most explosive colors ever seen on a portable monitor.
Universal Compatibility
Adapters, cables, and converters are costly and take up valuable space. Desklab is universally compatible with all devices so you will never have to worry about accessibility. Desklab isn't just for laptops. You can connect to any device and turn it into a 4K workspace or entertainment system. Desklab is universally compatible with all operating systems and devices, including iOS, Android, Windows, and Google. No formatting or setup is required. Once you plug Desklab into your device, you can get to work right away.
creen Type:
IPS
Weight:
595 grams
Width:
3.5 mm (0.14 inch)
Resolution:
1080p (FHD) / 4K (UHD)
Panel Size:
15.6"
Response Time:
20 ms
Luminance:
400 cd/m
2
Ports:
Type-C / mini HDMI / Micro-USB
Color Range:
16.7 M
Viewing Angle:
178°
Contrast Ratio:
1200:1